Elizabeth Abeyta - Navajo Sculptor
Nah-Glee-eh-bah
A few years ago Steve and I were wandering Old Town in Albuquerque, spending a few hours before driving to the airport to fly home. We wandered into the Tanner-Chaney Gallery and encountered our first sculpture by Elizabeth Abeyta, an extremely simple looking figure, a mudhead carrying a shield and a pouchcontaining ears of corn [naad"/voyage/images/aacunas.gif" height=14 width=7"/voyage/images/aacunas.gif" height=14 width=7']. We simply could not walk away from him. The blanket wrapped figure, with only the head ['atsii'] visible, had so much feeling built into the slight lean of the body, in the inclination of the head ['atsii'], in the eyes ['anáá'] that missed nothing but had seen it all before. These eyes, just two small rings of clay on a rounded head, mirrored by the mouth ['azéé'] , looked right through you. The shoulders ['awos] (unseen) were bent forward beneath the weight of the world. The ability to build all of that into such a simple clay form belonged to a young Navajo woman named Elizabeth Abeyta. Before we left that day, we made arrangements to have this mudhead shipped to us in Massachusetts.
The next time we were in Albuquerque we made it a point to stop in again to see if there were any new sculptures from Ms. Abeyta. This time we found that there was a much larger piece that had won a ribbon at the Gallup Intertribal Arts & Crafts Show. This piece was a group of interlocked bodies of mudheads of all sizes, generations of mudheads emerging from the kiva on which they were seated. They were adorned with leather pouches, long leather fringes, sashes and ribbons made of clay but looking so much like cloth that you believe they are, metal buttons, gourd rattles and bits of turquoise [doot
'izhii yoo'] and coral [yoo'
ichí'í].
Here was an entire family of mudheads, their arms ['agaan] and legs ['ajáád] intertwined. Someone was watching you all the time, trying to tell you something. There was no question about this piece. It had to come home too. These mudheads watch (over) us every day [j

].
How, with so few facial features available, does she achieve the expressiveness that she does? There are no wrinkles on the face ['anii'], no eyebrows ['anát'éézh], no cheek muscles ['aniits

'], no lips ['adaa'], no chin ['ayaats'iin], no ears ['ajaa']. But, if anything, this removes any ambiguity. Just the eyes ['anáá'], the depth of their eyes ['anáá']. As with Roxanne Swentzell's sculptures, the eye ['anáá'] has no surface. This creates the impression that the eyes ['anáá'] speak from deep within the figure, from the soul ['ii'sizíinii], not the mind ['áni'], and can also see deep into your soul ['ii'sizíinii]. The almost emotionless face ['anii'] creates the feeling that this being has seen it all before. No surprise is possible. These qualities have been used before in European death figures. But these are not figures to be associated with death. They may be from the darker side of life, but they are about life.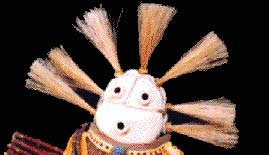 The same can be said for Elizabeth's Yei figures, adorned with necklaces [yoo'], small weavings [diyogí], buttons, fringes, carrying pots or bundles of wood, and also wearing masks which create the same feelings in the viewer. The eyes ['anáá'] are both all seeing and impenetrable.
There is a critical difference between the mudheads of Elizabeth Abeyta and the koshares of Roxanne Swentzell. The underlying humanity of Roxanne Swentzell's clowns is obvious, no matter how knowing they may be. It is not clear that Elizabeth Abeyta's clowns are human. Perhaps they are just visiting us to deliver a message, a lesson. After all, that is what they do at the dances.
At the first miniatures show that I visited at the Albuquerque Museum, Elizabeth had two pieces. I was literally overwhelmed when I saw them. Emotion and power radiated from these small figures. One, a completely uniform cream colored [dinilgai] clown was celebrating the harvest among the cornstalks, lying in the field, arms ['agaan] and legs ['agáád] raised to the sky [yáh]. The other one, a dark brown [ni
tóólí] figure stood silently and calmly looked through me. Both were already sold. I could not get free of these figures. They had grabbed my soul ['ii'sizíinii]. I woke up at 4 AM [d


di'azl


s], after a restless night, and wrote a letter to John Chaney about these figures. They had exerted such a powerful effect on me that I made the mistake of trying to order a particular piece from an artist. I drove over to the gallery at 5:30 and wedged the letter into the door. Then I filled the gas tank [chidí bitoo dahsi'aníg&iacuteí], planning to follow the full moon [hanííb


z] west into Arizona [Hoozdo Hahoodzo]. But at the gas station [chidí bitoo bá'a'íí'áhí] I saw a newspaper headline saying that there were a few whooping cranes at the Bosque del Apache. I instantly changed plans and headed south [shádi'ááh] to San Antonio and the bosque for the second time on this trip. I felt truly blessed in this last 24 [naadiin d


] hours.
The incredible figures that I have shown you above by no means exhaust Elizabeth Abeyta's repertoire. She also makes large (2' tall) female figures, Navajo women, adorned with turquoise [doot
'izhii], coral [yoo'
gaii], leather, silver [béésh
igaii], reaching out, listening , searching. Here you see her Changing Woman. figure.
There are also figures which harken back to the cultures of Central American and the Andes. Elizabeth also makes highly decorated figurative canteens.
---
There is an article on Elizabeth Abeyta's sculpture in the June 1990 issue of Southwest Art with many wonderful pictures of her sculptures.
---
Return to the Index of Artists
Return to the Roxanne Swentzell Page
Return to Day 11