Joanne Shenandoah: A Singing Spirit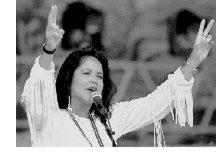 Joanne Shenandoah, one of the country's most prolific Native musicians doesn't need any tricks to coax the muse. "Whenever I need a song, I sit down and write one," Shenandoah says, although she hastily adds a modest disclaimer. "I don't take personal credit for my songs; they're all ancestrally inspired. When I listen to Once in a Red Moon (Shenandoah's 1994 release for Canyon Records), for example, the songs still amaze me. I can hear the voices of the past and future coming through."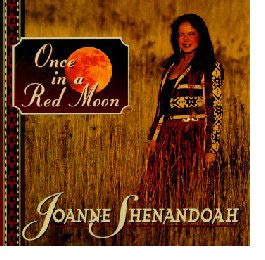 Shenandoah, a member of the Oneida Nation, was born in Iroquois territory, and was given the name Takalihwa kwha - She Sings. Ted Silverhand, an elder in the Tuscarora clan, one of the six nations that make up the Iroquois, had a vision of Shenandoah's successful musical career when she was a baby and she's more than lived up to his prediction. Shenandoah has performed at both Clinton inaugurals, contributed music to the soundtrack of "Northern Exposure," "How the West Was Lost" and "Indian in the Cupboard," been nominated for a Pulitzer Prize in music for her composition "Ganondagan," written books, performed at Pow Wows, clubs and music festivals in France, Canada and The United Stares, and recorded six albums including her latest, All Spirits Sing, a coming of age story for children.
"All Spirits was fun to do," Shenandoah said. "The music includes folk, blues, country, pop, Disney-esque songs for kids and some Native things. I wanted to show the diversity of my music and get away from the 'chick-with-guitar' stereotype." The story concerns a young girl, played by Shenandoah's niece, who wants to learn how to sing. Shenandoah guides the girl on a vision quest, introducing her to singing moonbeams, singing squash blossoms and singing wolves. Shenandoah calls it "a mythical journey that all ages can relate to, a tale to raise children's self-esteem."
Like the young hero of All Spirits Sing, Shenandoah has been performing since childhood. "Everyone in my family played music for relaxation. My dad, Clifford Shenandoah, played jazz guitar with Duke Ellington and taught me Billie Holiday songs."
Shenandoah started playing piano as a child, and went on to guitar, clarinet, cello, flute and more. "My mother says I've always been able to pick up any instrument and start playing."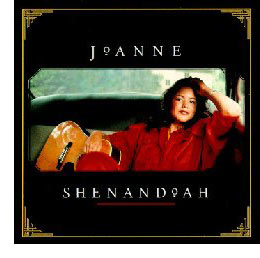 In college Shenandoah discovered computers and considered a career in systems management, but music always called out to her. "I'd been doing commercials and some background singing, and finally decided to see how far I could go with my own music." Shenandoah signed with Canyon Records and put out her eponymous debut in 1989. Since then she's followed her heart and produced a body of work that combines all her interests - pop, symphonic, folk and her own Native roots.
"I've always loved the singing societies of the Iroquois women. They taught the young men their songs. The prohibition against women playing the drum doesn't hold true in Eastern Tribes; women are considered the back bone of the community - spiritual advisors, counselors, healers."
On Matriarch, recently nominated for an Indie Grammy, Shenandoah performed 13 traditional Iroquois women's songs as a tribute to the women in her family. It's one of Shenandoah's most powerful and deeply felt recordings.
"The melodies are all authentic, and were recorded a cappella at various sites sacred to the Oneida. The sounds of the birds and wind you hear [on the disc], are all natural. Tom (Wasinger, who co-produced with Shenandoah ) and I did some overdubbing, but we kept it simple, and true to the spirit of the music."
Shenandoah recently learned that Matriarch is being played in healing centers all over America. She was not surprised. "We're all in need of spiritual healing, and anything that celebrates life on this earth is a blessing. That's the Iroquois way."

Visit our iTunes shop for Native American music downloads.
---
j. poet is the music editor for Indian Artists magazine. He also writes about world music, blues, jazz, folk and pop culture for a variety of national, international and online publications. Feedback, offers of new product or queries? <poebeat@earthlink.net>

Joanne Shenandoah on the Canyon Records Productions site