Evil Corn
New Poems by
Adrian C. Louis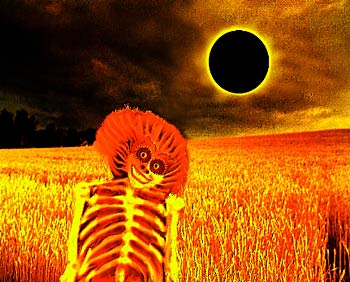 This collection of hard-edged prose poems takes no prisoners. Louis walks the tightrope between the sacred and the profane with humor, anger, and compassion, all dispensed with a startling clarity of vision. These poems, written from 1999 to 2004 derive from Louis' self-imposed exile in the rural deadlands of southwestern Minnesota. Ellis Press publication date: July 2004. Pre-paid orders are being accepted now.
"Like fresh voices of any era, Adrian C. Louis's work requires a second look; the poems are often outside the comfort zone of what is currently stylish or "in." He is daring, but I don't really think he is reckless. He has created a persona, a speaker who looks squarely at the world and who processes what he sees through a sensibility that can be gently comic, severely satirical, outrageously iconoclastic, and sometimes disarmingly self-revealing. The voice, which sounds so nonchalant and casual at times, always manages a musical intensity. The way Whitman's voice did. Or Allen Ginsberg's at his best. There is consistently a wry and forgiving smile curling through even his most cantankerous poems. Adrian C. Louis is an original and untamable genius."
- Jim Heynen
"Adrian C. Louis is a one-man wrecking crew who will change the face of poetry until we all wake up and honor him. No poet does what he does. No poet attempts what he attempts. His poetry is everything we were educated to turn our backs on because of the fear of facing American truths. His visions and choice of words are rhythmic, defiant, and timeless."
- Ray Gonzalez
About the Author
A half-breed Indian, Adrian C. Louis was born and raised in northern NV and is an enrolled member of the Lovelock Paiute Tribe. From 1984-97, he taught at Oglala Lakota College on the Pine Ridge Reservation of SD. Prior to this, Adrian C. Louis edited four Native newspapers, including a stint as managing editor of The Lakota Times and later Indian Country Today. Since 1999 he has been a professor of English in the MN State University system.
Adrian C. Louis has written a dozen books of poems including Fire Water World, winner of the 1989 Poetry Center Award from San Francisco State University. He has written two works of fiction: Wild Indians & Other Creatures, a collection of short stories, and Skins, a novel. Skins was produced as a feature film, directed by Chris Eyre, and had its national theatrical release in the summer of 2002. Louis has won various writing awards including a Pushcart Prize and fellowships from the Bush Foundation, the National Endowment for the Arts, and the Lila Wallace-Reader's Digest Foundation.
Evil Corn
ISBN 0-944024-52-1
Perfect bound
128 pp. $18.
Enclose an additional $2.00 for shipping

Ellis Press
PO Box 6
Granite Falls,
MN 56241

Ellis Press website