Linda Boyden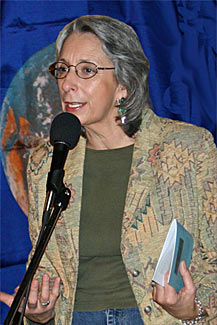 Linda Boyden has spent most of her adult life leading children to literacy. From 1970-1997, she taught in elementary schools in Maryland, Nevada, Montana, and Virginia, receiving her master's in Gifted and Talented Education in 1992 from the University of Virginia, Charlottesville.
In 1997, Linda decided to change careers and abandoned full-time teaching for full-time writing. She and her husband, John, moved to Maui where for the next seven years she was a volunteer storyteller at the Makawao Public Library for their weekly Toddler Time Story Hour. She also hosted the library's Young Readers Club for older students after school once a month and was the weekly voice of the UpCountry Kiwanis' telephone StoryLine.
While on Maui, she was an active member of both the Maui Live Poets Society and the Maui Writers Guild and had poems and articles published. In 2002, her first picture book, The Blue Roses, was published by Lee & Low Books. It was the recipient of Lee and Low Books' first New Voices Award in the year 2000, the 2003 Paterson Prize in its age category, Wordcraft Circle of Native American Writers and Storytellers' Book of the Year, Children's Literature, 2002-2003, and was included on the prestigious CCBC (Cooperative Children's Book Center) 2003 Choices list of recommended titles. In 2003, Linda was invited to participate in the 8th Annual Multicultural Children's Book Festival at the Kennedy Center in Washington D.C.
Linda is a member of the Society of Children's Book Writers and Illustrators and Wordcraft Circle of Native American Writers and Storytellers. She enjoys doing author visits and storytelling at schools and libraries across the country.
In 2004, Linda and family relocated to Redding, rimmed by Mt. Shasta and Mt. Lassen in beautiful northern California. Linda is in charge of the Beginning Reading Program at the Sylvan Learning Center. She is a regular storyteller at Barnes & Noble, Shasta County Library in Redding, the Anderson Library, and in many schools. She has recently had her first chapbook of poems published, WomanSong, as well as a CD of her Native American storytelling, Dikanohelvsdi Elisi Unitseli, Stories of the Grandmothers. Currently, she is working on her first storytelling DVD. In her spare time, she and photographer husband, John, enjoy hiking and spoiling their many beautiful grandchildren.
"For as long as I can remember, I have loved words. Before I could read, I told myself stories to fall asleep by or stories for my dolls to enact. The first most important discovery of my life was learning how to read. It changed everything! I still loved to make up my own stories, but now I could enjoy what others had imagined, too.

Sometimes as a child, important adults, relatives or teachers, misunderstood my storytelling jaunts. To be good, they pointed out, I must learn the difference between telling the truth and telling lies. As I grew older and emerged as a writer, I discovered one of the truths of fiction writing: readers approve of the "lies"! This is definitely for me, I decided.

But I also wanted to teach, and I did for over twenty years. During snow days or when I was an at-home mom with my own babies, I wrote at every opportunity. When circumstances moved my husband and I to Maui in 1997, I abandoned teaching and began to try to market my writings in earnest.

After many, many rejections, one of my manuscripts, The Blue Roses, hit the jackpot by winning Lee & Low Books first New Voices Award in the year 2000.

A traditional Cherokee myth says that the first stories came to the People through dreams. My first book is based on a dream I had after my maternal grandfather passed on. I was 30 at the time, about to have my third child, and couldn't travel the long distance for his funeral. I was heartbroken. One night, Grandpa came to me in a dream. He stood in a beautiful garden, which had been his life-long hobby. Grandpa said he was happy and to stop my carrying-on. It might sound strange, but I awoke with a new-found sense of contentment.

Until then, death had terrified me. Seeing how happy he was changed that. Later, I thought how poorly death is explained to most children. Wouldn't gardening be a great metaphor to help kids understand, to give them comfort and hope? These thoughts led to my book.

Kids are still as hungry for good books as I was. Leading them to their own literacy is what I enjoy doing most, next to writing. Children have stories to tell. Teaching them to express their words aloud or on paper and to enjoy the written words of others empowers them and enriches the world.

Linda's storytelling website can be seen at http://www.lindaboyden.com/.
Recent Appearances and Memberships
Awards
Linda received both the First Place Award and an Honorable Mention for her poems in the 5th Annual Pleasanton Poetry, Prose & Arts Festival. She was named Writer of the Year for Children's Books, 2002-2003 by the Wordcraft Circle of Native Writers and Storytellers. The Blue Roses has received the 2003 Paterson Prize for Books for Young People, in the pre-K-3 division, sponsored by The Poetry Center at Passaic County Community College. The book is also included in the University of Wisconsin, Madison's Cooperative Children's Books Center Choices 2003 list. In 2000, Linda won the Lee & Low Books first New Voices Award for her book The Blue Roses.
Writing available online
Books by Linda Boyden or containing her work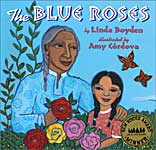 Children's Books
The Blue Roses, Lee and Low Books, 2002.
Anthologies Containing Linda's Work
Linda Hasselstrom, Gaydell Collier, Nancy Curtis (Editors), Mariner Books, 2001.

Through the Eye of the Deer, Carolyn Dunn & Carol Comfort (Editors), Consortium Books, 1999.

Maui Muses, Vol. II, edited by Maui Live Poets, 1997
This is an "official" site in that this page was constructed with the assistance and active collaboration of the poet, Linda Boyden. The website "author" is Karen M. Strom
© 2002 - 2004 Linda Boyden and Karen Strom.
---
Return to the Storytellers Frontdoor