Linda Hogan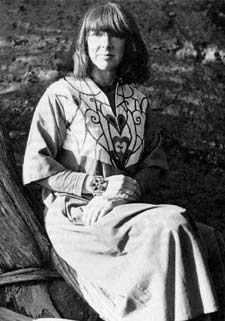 Linda Hogan grew up in a military family and therefore moved often. As a result, she did not grow up within an Indian community (her tribal affiliation is Chickasaw). Most of her childhood was spent in Oklahoma and Colorado.

Linda was a professor in the English Dept. at the University of Colorado in Boulder, where she received her M.A. in 1978. She has served on the National Endowment for the Arts poetry panel for two years and has been involved in wildlife rehabilitation as a volunteer.

The main focus and movement of Linda's work concerns the traditional indigenous view of and relationship to the land, animals and plants.

A short biography from the Internet Public Library's Native American Author's Project.
Writing available online
Deer Dance, a previously unpublished poem.

From the University of Arizona Poetry Center
Awards
Linda has recently received a 2002 Wordcraft Circle Writer of the Year Creative Prose: Memoir for The Woman Who Watches Over The World: A Native Memoir. In July 1998, she received the Lifetime Achievement Award from the Native Writers' Circle of the Americas. Linda received the American Book Award from the Before Columbus Foundation in 1986 for Seeing Through the Sun.
She received the Colorado Book Award in 1993 for The Book of Medicines, and in 1996 for Solar Storms. In 1994, Linda received the prestigious Lannan Award, which may not be applied for, for outstanding achievement in poetry. She has also received a Guggenheim grant, a fellowship from the National Endowment for the Arts, the Oklahoma Book Award for fiction in 1991 for her novel Mean Spirit, a Mountains and Plains Booksellers Award for fiction, a Pushcart Prize, the D'Arcy McNickle Tribal Historian Fellowship by the Newberry Library, Chicago, and the Five Civilized Tribes Museum Playwriting Award. The Book of Medicines was a finalist for the National Book Critics Circle Award in 1994. Mean Spirit was one of three finalists for the Pulitzer in 1990. Hogan has also been honored with the Outstanding Young Woman of the Year Award, for Community Service in 1980. Linda's short story Aunt Moon's Young Man was featured in Best American Short Stories (1989).
Books by Linda Hogan or containing her work
Poetry
The Book of Medicines : Poems, Coffeehouse Press.

Red Clay : Poems and Stories, Greenfield Review Press.

This books contains Calling Myself Home and That Horse

That Horse, Acoma Pueblo, New Mexico: Pueblo of Acoma Press

Savings, Coffeehouse Press.

Eclipse, Bookpeople

Seeing Through the Sun (Juniper Prize), Univ of Massachusetts Press.

Calling Myself Home, Greenfield Review Press, N.Y. 1979, 2nd Edition 1982.

Daughters, I Love You, Loretto Heights Monograph Series, Denver, CO, 1981.
Prose
A review of Mean Spirit by Lee Lawton from Woman's Books Online
A review of Solar Storms in the New York Times Book Review online edition.
with Carol Bruchac and Judith McDaniel, Greenfield Review Press.
with Brenda Peterson and Deena Metzger, Ballantine & Random House
Plays
A Piece of Moon, Produced Fall 1981, Okla. State University.

Everything Has a Spirit, narrative for video which has shown on PBS.
Anthologies Containing Linda's Work
Ishmael Reed (Editor), Thunder's Mouth Press.
Kegedonce Press.
Kegedonce Press.
Linda Hogan, Brenda Peterson (Editors), North Point Press.
Scott Slovic (Editor), Univ. AZ Press.
Jim Daniels (Editor), Wayne State Univ. Press.
(Edited by Joy Harjo and Gloria Bird), W.W. Norton.
Janine Canan (Editor), Crossing Press.
by Larry Evers (Editor), Ofelia Zepeda (Editor), Univ of Arizona Press.
John Gattuso (Editor), Beyond Words Publishing Co.
Southwest Parks & Monuments.
(Sun Tracks Books, No 29) University of Arizona Press.
Maria M. Gillan, Jennifer Gillan (Editors), Penguin USA
(Editors), Salmon Run Pub.
Amber Coverdale Sumrall & Patrice Vecchione, Plume/Penguin Books.
by Russell Martin, Penguin USA
by Craig Lesley, Katheryn Stavrakis (Editor) Dell Books
Ed. by Simon J. Ortiz, Navajo Community College Press
by Geary Hobson (Editor), Univ of New Mexico Press
by Rayna Green (Editor) Indiana Univ Press
by Joseph Bruchac (Editor), Greenfield Review Press
by Duane Niatum (Editor) HarperCollins
by Lorraine Anderson (Editor), Vintage Books.
by Joseph Barbato (Editor), Lisa Weinerman (Editor), Barry Lopez (Introduction)
by Susan Cahill (Editor)
by Wendy Martin (Editor) (Hardcover)
Editors, Point Riders Press.
Houghton Mifflin Co.
Sources of Interviews with Linda and/or Essays on her Work
From the Center of Tradition: Critical Perspectives on Linda Hogan, Barbara J. Cook (Editor), Univ. Colorado Press.

The Nature of Native American Poetry, Norma C. Wilson, Univ. New Mexico Press.

Linda Hogan, a special edition edited by John Purdy,

Studies in American Indian Literatures, Volume 11, Number 4, Winter 1999, including:
The Terrestrial and Aquatic Intelligence of Linda Hogan
Donelle N. Dreeser
Linda Hogan's Tribal Imperative: Collapsing Space Through "Living" Tribal Traditions and Nature
Melani Bleck
The Politics of Border in Linda Hogan's Mean Spirit
Yonka Kronmova Krasneva


This Story is Brimming Around: An Interview with Linda Hogan, Carol Miller, ASAIL, V 2, No. 4.

Native American Writers of the United States, (Dictionary of Literary Biography, V. 175),

Kenneth M. Roemer (Editor), Gale Research.
Joseph Bruchac III (Editor), (Sun Tracks Books, No 15) University of Arizona Press
by Brian Swann, Arnold Krupat, Brompton Books Corp.

The Writer on Her Work, Janet Sternberg, Editor, Norton.

Derrick Jensen, Editor, Sierra Club Books.

Hogan exposes Native history in her storytelling fiction by Elisabeth Sherwin

Short article on a reading at UC DAvis, from the Printed Word
Textbooks
Approaching Poetry: Perspectives and Responses, Peter Schakel and Jack Ridl

St. Martin's Press.
This is an "official" site in that this page was constructed with the assistance and active collaboration of the poet, Linda Hogan. The website "author" is Karen M. Strom.
© 1997 Linda Hogan and Karen Strom.
---
Return to the Storytellers Frontdoor