Nora Naranjo Morse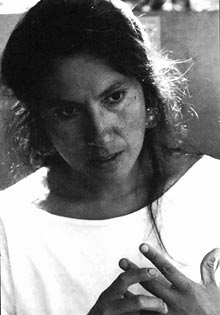 Nora Naranjo-Morse, a Tewa Pueblo Indian from Santa Clara Pueblo, is a sculptor, writer and video producer of films that look at the continuing social changes within Pueblo culture. Her video What Was Taken... was screened in the 1997 Native American Film and Video Festival at the National Museum of the American Indian. In conjunction with this festival, her video, I've Been Bingo-ed by My Baby, was screened at the American Indian Community House. Nora incorporates the various media she works in to make social comment on the lives of contemporary Native women. She is best known for her work in clay. This medium holds special significance not only because of its place within the history of Santa Clara Pueblo art, but also because of the traditional processing it requires.  While her forms convey an aesthetic that is non-traditional, the content of her work is always rooted in issues that concern her community. Her work, in fact, often reflects on the tensions of producing art for a Western art market that often praises its innovative approach while, at the same, marginalizes it as "native" art. She lives in northern New Mexico with her family in an adobe house that she and her husband built.
The CONTINUUM: 12 Artists series at the National Museum of the American Indian will contain work by Nora. Nora was one of the artists invited to take part in the International Gathering of Indigenous Visual Artists of the Pacific Rim held at The Evergreen State College in June, 2001. She has served on the Editorial Advisory Board of the magazine Aboriginal Voices. Nora was the 2000 Dubin Fellow at the School for American Research in Santa Fe. She has received a Eiteljorg Fellowship for Native American Fine Art in 2003. Nora was one of 6 artists selected to be included in the 7th Native American Fine Arts Invitational at the Heard Museum in Phoenix, AZ. The transcription of her reading in the first Poetics and Politics series at the University of Arizona is available online.
Nora's bronze sculpture, Khwee-seng (Woman-Man), was included in Exhibition VI of the series Twentieth Century American Sculpture at the White House. A photo gallery of Nora's work is available now online.
Nora is one of 8 contemporary artists chosen to participate in the Reservation X exhibitions at the Canadian Museum of Civilization in Hull, Que., Canada. Her work is also represented in the Indian Humor exhibit on the NMAI website and in the Clay People exhibit at the Wheelwright Museum in Santa Fe. She was also a moving force in the Clay Beings: Storytellers and the Reshaping of Ceramic Figures Native American Artist Convocation at the School of American Research.
A short biography from the Internet Public Library's Native American Author's Project is available.
Writing available online
Books by Nora Naranjo-Morse
University of Arizona Press. (Hardcover)
Modern Curriculum Press
Videos with/by Nora Naranjo-Morse
Inspirations (DVD), directed by Michael Apted

Interviews with 7 artists, including Nora, David Bowie, and Roy Lichtenstein
based on the Susan Peterson book (see above).

Separate Visions, Distributed by the University of California.
Anthologies and other Books containing Nora's Work
Books Containing Interviews with Nora or Essays on Her Work
Reservation X: The Power of Place in Aboriginal Contemporary Art, Gerald McMaster (Editor)

University of Washington Press.

Pottery by American Indian Women: The Legacy of Generations, Susan Peterson, Abbeville Press.

by Rina Swentzell, Bill Steen (Photographer), First Avenue Editions (Library Binding)

"This Woman Can Cross Any Line": Feminist Tricksters in the Works of Nora Naranjo-Morse and Joy Harjo

Kristine Holmes, Studies in American Indian Literatures, 7, 45, 1995 Spring.

A Separate Vision, Case Studies of Four Contemporary Indian Artists,

by Linda B. Eaton, Museum of Northern Arizona Bulletin 58, Route 4, Box 720, Flagstaff, AZ 86001.
Interview (including Brenda Spencer & Baje Whitethorne) with Linda Eaton in Weber Studies
(America Indian Lives), by Lawrence Abbott (Editor)
Exhibit Information
This is an "official" site in that this page was constructed with the assistance and active collaboration of the poet, Nora Naranjo Morse.
© 1997 - 2003 Nora Naranjo Morse and Karen Strom.
---
Return to the Storytellers Frontdoor