Delphine Red Shirt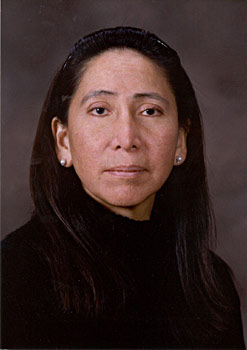 Delphine Red Shirt, Oglala Lakota, spent her earliest years off the reservation in a small town in northern Nebraska where she attended public school, learning to speak English for the first time. After her family returned to the reservation, she first attended government schools and later the Red Cloud Indian School, a Catholic high school in Pine Ridge. She attended Regis College in Denver, with a major in Accounting and a minor in History.
Delphine has been a member of the United States Marine Corps. She served as the Chairperson of the United Nations NGO Committee on the International Decade of the World's Indigenous People: 1995-96, and as the United Nations Representative for the Four Directions Council: International Indigenous Organization with access to the UN from 1994 to 1997. During this time she also received her Master of Arts in Liberal Studies in Creative Writing from Wesleyan University and was an Advisor to Native American Students at Yale University.
Recently Delphine has served as an Adjunct Professor of American Studies and English at Yale University in the Fall, 2001 term and at Connecticut College during the Spring term in 2001 and 2002. She has maintained an extensive schedule of public speaking and appearances and has narrated film for Peabody Museum at Yale University. She had given interviews on National Public Radio, as well as other radio and television interviews.
She is now Series Editor for The University of Nebraska Press: "Race and Ethnicity in the American West": A series that bridges the gap between old and new western history, suggesting an alternative that examines the racial and ethnic experience as a primary factor in the establishment of the West as a region, thus nurturing a dynamic, holistic perception of western history. Books published in the series will explore the dynamic interactions between groups over time, with comparative approaches that showcase this interaction as a primary factor in creating the West's unique regional identity. This is an aggressive new vision for western history that combines process with place.
Delphine is a freelance writer and syndicated columnist for Indian Country Today, the Lakota Nation Journal of Rapid City, SD and the Hartford Courant newspaper in Hartford, CT. She is also working diligently toward establishing the Northern Plains Intertribal Preparatory School on land she has acquired near the Black Hills in South Dakota.
| | | |
| --- | --- | --- |
| | Writing available online | |
Awards
Turtle Lung Womans Granddaughter has been nominated for a 2002 American Book Award and a 2003 Spur Award. Delphine was awarded a grant from the Endangered Languages Fund to support her work transcribing the recordings made of conversations with her mother, recordings that were incorporated into Turtle Lung Womans Granddaughter.
Books by Delphine Red Shirt
Book review by Mary E. Adams from World Literature Today
Review from the Washington Post [Halfway down the page]
Publisher's page for Turtle Lung Womans Granddaughter
Anthologies containing Delphine's work
Western Women's Reader: The Remarkable Writings of Women Who Shaped the American West, Spanning 300 Years

Lillian Schlissel & Catherine Lavender (Editors), DIANE Pub.

Tongue Tied: The Lives of Multilingual Students in Public Schools, Rowman & Littlefield Pub.
Interviews with Delphine Red Shirt
Blood Memory: Interview with Delphine Red Shirt by Barbara Sorensen

Winds of Change, V 18, No. 1, Winter 2003.
This is an "official" site in that this page was constructed with the assistance and active collaboration of the writer, Delphine Red Shirt.
© 2003 Delphine Red Shirt and Karen Strom.


Return to the Storytellers Frontdoor