Cheryl Savageau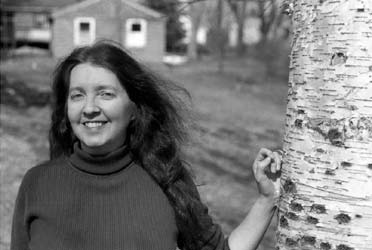 Cheryl Savageau, Abenaki, a poet and fiction writer, was born in central Massachusetts, the oldest of six children, and grew up in an island neighborhood on Lake Quinsigamond. She is of mixed French Canadian and Abenaki heritage. She graduated from Clark University in 1978, where she began writing "by accident" when she signed up for a poetry class through Continuing Education to finish her degree, and it turned out to be a writing class. Her apprenticeship as a writer was through the People's Poets and Artists Workshop in Worcester, MA, started by the poet Etheridge Knight in 1977. Cheryl worked for several years as a poet and storyteller in the schools through the Massachusetts Artist in Residence program. Since 1993, she has been a member of Wordcraft Circle of Native Writers and Storytellers, working as a mentor to apprentice Native writers. Cheryl has taught at Clark University, Holy Cross College, and the University of Massachusetts at Amherst. She is now teaching in the Native American Studies Department at the University of New Mexico in Albuquerque. Her current writing projects include a third volume of poetry and a novel about chronic illness.
A short biography is available from the Internet Public Library's Native American Author's Project.
Writing available online
Awards
Cheryl received the 1996 Notable Book for Children award from the Smithsonian for her book Muskrat Will Be Swimming and the Skipping Stones Book Award for Exceptional Multicultural and Nature/Ecology Books in 1997. She was a finalist for the Paterson Poetry Prize in 1996 for her book Dirt Road Home, for which she was also nominated for the Pulitzer Prize. She has received fellowships in poetry from the National Endowment for the Arts and the Massachusetts Artists Foundation and has held Residency Fellowships in 1994, 1995 & 1996 at the MacDowell Colony for the Arts.
Books by Cheryl Savageau or containing her work
Poetry
Mother/Land, Salt Publishing.

Home Country, Alice James Books.
Children's Books
Muskrat Will Be Swimming, Robert Hynes (Illustrator), Northland Pub.
Anthologies Containing Cheryl's Work
Through the Eye of the Deer, Carolyn Dunn & Carol Comfort (Editors), Aunt Lute Books.

Identity Lessons: Contemporary Writing About Learning to Be American, Maria Mazziotti Gillan and Jennifer Gillan

(Editors), Viking Penguin.

Through the Kitchen Window, Arlene Arvakian (Editor), Beacon Press.

Durable Breath : Contemporary Native American Poetry, John E. Smelcer, D. L. Birchfield

(Editors), Salmon Run Pub.
Diane Glancy, C.W. Truesdale (Editors), New Rivers Press.
(Sun Tracks Books, No 29) University of Arizona Press.

Poetry Like Bread : Poets of the Political Imagination , Martín Espada (Editor),

Spinning Tales, Weaving Hope: Stories, Storytelling and Activities for Peace,
Justice and the Environment
, Ed Brody, Jay Goldspinner, Katie Green, Rona Leventhal (Editors), The New Society Press. (Hardcover)

An Ear to the Ground, Marie Harris and Kathleen Aguero (Editors),

University of Georgia Press.
Beyond Victimization: Forging a Path to Celebration, Volume 9, Theytus Books.

Practical Techniques When Writing Poetry, Transcript of a workshop given at the

Returning The Gift: Native American Writers Festival, in Reclaiming the Vision: Past, Present, and Future : Native Voices for the Eighth Generation, Lee Francis and James Bruchac (Editors), Greenfield Review Press.
Interviews with or Critical Work on Cheryl
The Nature of Native American Poetry, Norma C. Wilson, Univ. New Mexico Press.

Interview with Cheryl by Jennifer Hill (on the Curbstone Press website).
Textbooks
Approaching Poetry: Perspectives and Responses, Peter Schakel and Jack Ridl

St. Martin's Press.
This is an "official" site in that this page was constructed with the assistance and active collaboration of the poet, Cheryl Savageau.
© 1997 Cheryl Savageau and Karen Strom.
---
Return to the Storytellers Frontdoor