Laura Tohe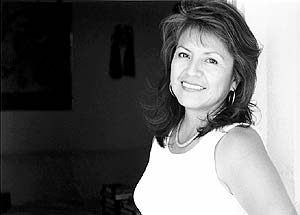 Laura Tohe is Diné (Navajo). She was born in Fort Defiance, AZ and is Tsenabahi
nii (Sleepy Water People clan) and born for the Tódích´íinii (Bitter Water clan). She grew up near the Chuska Mountains on the eastern border of the Navajo Reservation and attended both boarding schools and public schools in Albuquerque.
Laura writes poetry and stories as well as academic papers for journals and conferences. Her work has been published in numerous journals, such as Calyx and Callaloo. Her work has also been translated into modern dance and music by The Moving Company in Omaha, NE. She has served as a panelist in open fora and on review panels. She is a member of the National Caucus Board of the Wordcraft Circle of Native Writers and Storytellers and on the Advisory Board for the wicazo sa review. She has been a special volume editor for Nebraska Humanities and a speaker for the Nebraska and Arizona Humanities Programs as well as serving on both the Nebraska and Kansas Art Councils.
Laura holds a B.A. in psychology from the University of New Mexico and an M.A. and Ph.D. in English from the University of Nebraska where she received both a Regent Fellowship and Minority Fellowships to support her studies. She is now an Assistant Professor in the English Dept. at Arizona State University.
Laura gives numerous readings of her work and is currently working on a new book of poetry, stories and essays, Talking Woman.
A short biography from the Internet Public Library's Native American Author's Project.
Writing available online
Awards
In 1999 Laura was named Writer of the Year - Poetry for No Parole Today by the Wordcraft Circle of Native Writers.

Laura has been included in Outstanding Young Women of America in 1980, Native American Women: A Biographical Dictionary and Native Time - An Historical Timeline of Native America by Lee Francis. She has received a Certificate of Recognition from the Wordcraft Circle of Native American Mentors & Apprentice Writers and from the Nebraska Humanities Council and a Distinguished Service Award from the Goodrich Program at the University of Nebraska - Omaha.

Tséyi' / Deep in the Rock: Reflections on Canyon de Chelly has been named a Top Pick on the Southwest Books of the Year 2005 list from the Tucson-Pima Public Library.
Books by Laura Tohe or containing her work
with Stephen E. Strom (photographer), Univ. of Arizona Pr. [Now Available]

Sister Nations, Heid Erdrich and Laura Tohe (Editors), New Rivers Press.

No Parole Today, West End Press.

Making Friends With The Water, Nosila Press.
Plays
The Story of Me, Children's play commissioned by Emmy Gifford Children's Theatre,

Omaha, NE, 1993.
Videos
Distant Voices Thunder Words, 1990, NETV (Nebraska Educational Television)

Willow Man's Children, 1988, storytelling for the Omaha Public Schools.
Anthologies
Southwestern Women : New Voices, ed. Caitlin L. Gannon (Editor), Javelina Press.

On Our Own Terms: Critical / Creative Representations of Native American Women,

Inez Hernandez-Avila (Editor). (Forthcoming 2006)

Communicatng of Prejudice, Michael Hecht (Editor), Sage Publications.

Hayookaal: An Anthology of Navajo Writers, Luci Tapahonso (Editor), University of Arizona Press. (Forthcoming 2006)

The Names, a limited edition broadside, Arizona State University Creative Writing Dept.

(Forthcoming 1997)
(Editors Joy Harjo and Gloria Bird), W.W. Norton.

Fever Dreams: Contemporary Arizona Poetry, Leilani Wright and James Cervantes,

Editors, Univ of Arizona Press.
(Sun Tracks Books, No 29) University of Arizona Press. (Hardcover)
by Connie Fife, Sister Vision Press.
Minnesota Humanities Commission Staff (Editor), Minnesota Humanities Commission Staff.

Blue Dawn, Red Earth : New Native American Storytellers, by Clifford E. Trafzer

(Editor), Anchor Books.

Blue Mesa Review, No 1, Rudolfo A. Anaya (Editor), Univ of New Mexico Press.

Wanbli Ho, Michael H. Benge (Editor), Sinte Gleska College.

Five For Dance, University of Nebraska Omaha Fine Arts Press.

All My Grandmothers Could Sing: Poems by Nebraska Women, J. Sornberger (Editor),

Free Rein Press.

Ceremony of Brotherhood, Rudolfo Anaya and Simon Ortiz (Editors), Academia.

by Joseph Bruchac (Editor), Greenfield Review Press

Resiembra, Northern Community College Press, Española, NM.
Textbooks
Scott Foresman Reader, 1996, Scott Foresman and Co.
Published Interviews with Laura
"Laura Tohe: Commitment to Heritage," Arizona Insight Newsletter, May 1997,

Arizona Humanities Council.

"Words, Stories and Voices -- Professor Tohe, A Navajo Tells Stories Through Her Books",

Arizona Native Scene, Oct. 21, 1996
Work published in Languages other than English
The New Skyline Edition, Ernst Klett Schulbuchverlag, Stuttgart, Germany.

An audiotape was also produced.

Estuaires, 1993, Revue Culturelle, Luxembourg.

Les cahiers: la poesie amerindienne, Manuel Van Thienen (Editor and Translator), 1989, No. 25.

Centre Regional de Documentation Pedagogique de l'Academie de Lyon.








This is an "official" site in that this page was constructed with the assistance and active collaboration of the poet, Laura Tohe.
---
Return to the Storytellers Frontdoor