Ron Welburn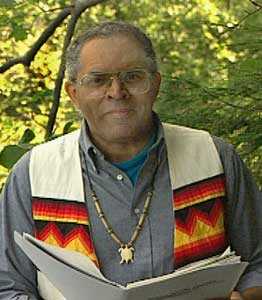 Ron Welburn is Assateague/Gingaskin and Cherokee and is descended from Native peoples of the Delmarva peninsula and eastern Virginia, and African Americans. A native of Berwyn, Pennsylvania where he began school, he grew up in Philadelphia. He began writing poetry and fiction as an undergraduate at Lincoln University in Pennsylvania in the mid-1960s and his poems have appeared in over 100 literary magazines and anthologies. In 1992 he was among those attending the historic Returning the Gift: A Festival of North American Native Writers held at the University of Oklahoma. He also reviews jazz recordings for JazzTimes; in 1980 he interviewed "Big Chief" Russell Moore, the Pima trombonist, for the Jazz Oral History Project which he coordinated at the Rutgers University Institute of Jazz Studies, and the following year produced for IJS a two-hour radio program, "American Indians in Jazz," an endeavor he plans to update.
Since the 1970s Ron has been associated with the Greenfield Review Literary Center which he has represented at book fairs and been a vendor at pow wows for the Native American Authors Distribution Project. Ron is an associate professor in the English department at the University of Massachusetts in Amherst, and is Director of the Certificate program in Native American Indian Studies.
A short biography from the Internet Public Library's Native American Author's Project is available.
Writing available online
Blackbird Circle
Awards
Ron was recently named 2002 Wordcraft Circle Writer of the Year in Creative Prose: Non-Fiction for Roanoke and Wampum: Topics in Native American Heritage and Literatures.
Books by Ron Welburn or containing his work
Poetry
Coming Through Smoke and the Dreaming, Greenfield Review Press.

Peter Lang Publishing. including essays on Apess, Robert J. Conley and the Joe Bruchac novel series, "Who Are the Southeastern Blackfoot?", The U.S. Great Seal, Amherst, Mildred Haun's Melungeon novel, Postcolonialism-Resistance-Ecocriticism in Native lit, a research meditation on Indians as slaves.

Council Decisions, American Native Press Archives. [Out of Print]

Heartland : Selected Poems, Lotus Press.

Brownup, and other poems, Greenfield Review Press. [Out of Print]

Peripheries : selected poems, 1966-1968, Greenfield Review Press. [Out of Print]
Anthologies
Joseph Bruchac (Editor), Greenfield Review Press.
Review of Aniyunwiya/Real Human Beings by D.L. Birchfield
(Sun Tracks Books, No 29) University of Arizona Press.
(Editors), Salmon Run Pub.
Reviews of The Second Set : The Jazz Poetry Anthology
Michael Czarnecki (Editor), Great Elm Press.
David Suzuki (Editor), Theytus Books.
This is an "official" site in that this page was constructed with the assistance and active collaboration of the poet, Ron Welburn.
---
Return to the Storytellers Frontdoor