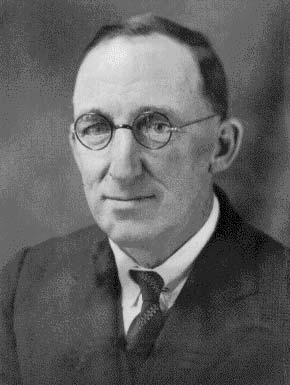 The Schurch Funeral
In many respects the funeral over the remains of Charles E. Schurch was unusually beautiful.
Reverend Avery had for his subject a life of remarkable purity and a record of public service not often found. The minister paid fine tribute to those many virtues which constituted a large part of the life of the deceased. A strong, vigorous man of liberal education and broad experience, yet Schurch lived a life of simple piety and quiet dignity that left no room for criticism.
As a citizen he had no superior. His public service of years in the course of education was given due attention by the minister. His beautiful family life was an inspiration to all who knew him. As a husband and father he was ideal, and sudden departure from life while the sun of existence was still at meridian constitutes a loss to the entire public, but to his wife and three daughters it is a tragedy that simply overwhelms them.
At the conclusion of the minister's remarks, the choir sung softly "In the Sweet Bye and Bye," and the service was concluded so far as the church part went.
Mrs. Schurch, dry-eyed and dazed with grief, was tenderly assisted to the waiting automobile, and the daughters were the centre of a group of loving friends. Nothing ever could be more tragic than the loss of this man, and the helplessness of his wife and daughters made a strong appeal to the audience.
The funeral procession wound slowly out to the cemetery where the earthly remains of our popular fellow-townsman were laid to rest.
---
Return to Generations of Women