Kim Shuck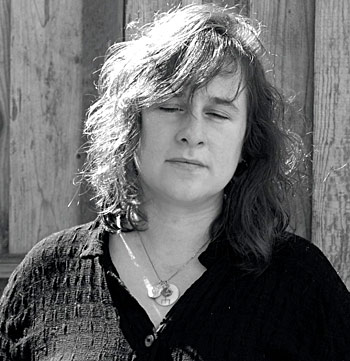 Kim Shuck is a poet, weaver, educator, doer of piles of laundry, planter of seeds, traveler and child wrangler. She was born in her mother's hometown of San Francisco, one hill away from where she now lives. Her ancestors were and are Tsalagi, Sauk and Fox and Polish, for the most part. She received a Master of Fine Arts degree in weaving in 1998 from San Francisco State University.
As a poet Kim has read her work around the United States. In late summer and fall of 2005 she toured through Jordan with a group of poets from many countries in the interest of peace and communication. Shuck has read her work on her local radio. She is co-curator of the Spoken Word Series of the Native American Cultural Center. Kim sat for a time on the board of directors for California Poets in the Schools.
As a visual artist Kim's work has been shown both in and out of the United States, including shows at the National Museum of Taiwan in Taipei and the Art, Women, California Show at the San Jose Art Museum. She has consulted with museums and galleries around California on the subject of Native artwork.
Kim has taught in Elementary Schools, at San Francisco State University and has lectured widely on the subjects of math, art and Native American issues. She has been a teacher since, in 3rd grade, she taught fellow classmates a series of short lessons in crochet.
Writing available online
Awards
Kim received the Native Writers of the Americas First Book Award in 2005 for her manuscript Smuggling Cherokee. She was named the Mentor of the Year by the Wordcraft Circle of Native Writers and Storytellers in 2005, and received the Mary Tallmountain Award in 2004. She was the Featured Poet for April 2004, City Reflections: War and Peace on Our Streets, a project of San Francisco Poet Laureate devorah major and was a California Humanities Scholar in 1997.
Books by Kim Shuck or containing her work
Poetry
Anthologies Containing Kim's Work
Textbooks
Journal Articles
This is an "official" site in that this page was constructed with the assistance and active collaboration of the poet, Kim Shuck. The website "author" is Karen M. Strom.
© 2005 Kim Shuck and Karen Strom.
---
Return to the Storytellers Frontdoor