Mike Austin (1953 - 2006)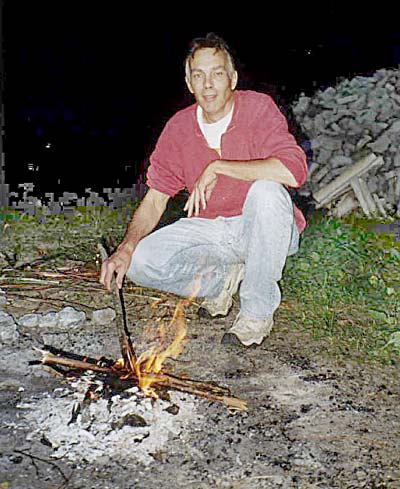 Mike Austin passed on on Jan. 10, 2006 in Vienna.
Mike Austin is Cherokee of mixed heritage and was partially raised in Oklahoma, the Cherokee Nation, Texas and Austria/Europe. He has been living and publishing his writings in Vienna, Austria since 1990. He continues to visit his home, family and friends, in Oklahoma regularly . . . from the different formal and informal gatherings "up in the city" to ceremonies and other celebrations both family and tribal "down home" in the Cherokee Nation.
Between 1974 and 1989 Mike was engaged in a variety of social and cultural programs as an activist at the Native American Center of Oklahoma City. In Europe he has been a member of the Society for Threatened Peoples - Austria since 1991. In his capacity as a member of its board, from 1993 to 1996 and again from 1998 to 2000, he served as a speaker for the international office at the UNO-Working Group of Indigenous Peoples in Geneva, Switzerland. In addition, he has been an European speaker for the Apache Survival Coalition of the San Carlos Apache in Arizona regarding Dzil Nchaa Si An - Mount Graham since 1994. Since 2002 he has been a member of the international board of directors of the College of the Redwinds , an indigenous initiative to advance an academically holistic approach of healing in indigenous education of higher learning through the arts.
Professionally Mike is a social worker dealing with chronic drug addiction. He has been employed by SocialProjects of Vienna since 1997.
Since 1992 Mike has been invited to over 250 schools, colleges, universities, intercultural events as a poet and lecturer and has appeared on radio and television on numerous occassions. He has held readings and writing workshops in Austria, Germany and Italy with many more forthcoming in the USA and other European countries. From 2000 to 2001 he had co-organized the literary project words from the edge tour of indigenous poets from endangered tribes with Lance Henson and Lisa Schnorf. As of 2002 Mike has begun to collaborate with LABYRINTH - the Association of English-Language Poets in Vienna .
Mike has published a diversity of political and socially critical articles and essays since 1988 dealing with the contemporary Indian experience in America. Especially in wake of the terror attacks on the USA in September 2001 and the ensuing world events his writings mirror the actuality of the unimaginable experiences and their consequences beyond the generations, which have been put upon the indigenous peoples of North America with system, specifically since 1776, and an increasing awareness of the very similar situations of all indigenous relatives on a global scale.
With his lyrics Mike declares his tradition as a tribal poet and storyteller as an essential part of his identity. He not only tells about the mythological origins of his peoples and their long way into the present, but also about the daily struggles and resistance beyond survival, as to continue their visions in face of a highly technologically and industrially dominant Euro-American society into the 21st century. "This literary quest is a protest against cultural genocide while reluctantly admitting my inability to re-establish the distance of my ancestors to the influences of Euro-American society. However, I feel that survival and continuance of our native cultures and its peoples, relatives and friends who continue to practice our dances and ceremonies, are witness of their vital strength. By doing so I wish to honor our ancestors, who have endured so much to ensure our survival, and to pass on a living heritage to my children and all who follow after us."
Writing available online
This is a selection of poems, chosen by Mike from his work.
Books by Mike Austin or containing his work
Chapbooks
Meanderings X, Peter Waugh (Editor), ka ruhdorfer, Teleskopie Publishing, Vienna.

Mike's section is entitled "21st century dawn songs"
Anthologies
Kreisender Adler, Singender Stern [Circling Eagle, Singing Star],

Kathe Recheis & Georg Bydlinski, Herder Publishing, Vienna, 1996.
Bernhard Schneider/ARCHE, Boehlau Publishing, Vienna, 1999.

Quimper and Poetry [Quimper est Poésie],

Oliver Hobe & Béatrice Machet/Unicef Literary Series "Indigenous Voices of the World", Maison pour Tous d'Ergué Armel Publishing, Quimper/France, 2000.

280 Sprachen für Wien [280 Languages for Vienna],

Thomas Fritz, College Publishing Edition, Vienna/Austria, 2001.

American Indian Poetry - In the Spirit of Resistance [La Poésie Amérindienne - L'espirit de Résistance],

Béatrice Machet, Place aux Sens Publishing, Nanterre/France, 2001.
This is an "official" site in that this page was constructed with the assistance and active collaboration of the poet, Mike Austin. The website "author" is Karen M. Strom
© 2002 - 2006 Mike Austin and Karen Strom.
---
Return to the Storytellers Frontdoor