Luci Tapahonso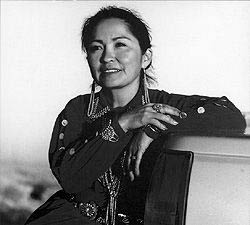 Luci Tapahonso, Navajo, is originally from Shiprock, NM, where she grew up in a family of 11 children. Navajo was her first language but she learned English at home before starting school at the Navajo Methodist Mission in Farmington, NM. She majored in English at the University of New Mexico, as an undergraduate and graduate student. She stayed on there as an Assistant Professor of English, Women's Studies and American Indian Studies for a few years. She has been an Associate Professor of English at the University of Kansas and is now Professor of English at the University of Arizona in Tucson where she teaches Poetry Writing and American Indian Literature.

Luci serves on the editorial board of wicazo sa review and was on the edtorial boards of Frontiers from 1991-1996 and of Blue Mesa Review from 1988-1992. She has been a juror for the Poetry Society of America, the Associated Writing Program Awards, and the Stan Steiner Writing Awards. She serves on the Advisory Boards of the Telluride Institute Writers Forum and has been a member of the New Mexico Arts Commission Literature Panel and the Kansas Arts Commission.

Luci writes for popular magazines as well as for academic and poetry journals, writing often for New Mexico Magazine. Among the journals where her work has been published are Diné Be Iina, Frontiers, Caliban, Sinister Wisdom, and the Beloit Poetry Journal.

She is also sought after as a speaker and has appeared on many NPR, PBS, CBS, ABC and local programs. Her work has been included in theatre productions and been read by William Shatner at the World of Poetry Convention in Las Vegas. It is also available on recordings [see below].

Luci serves her community at all levels, from her local community and university department to the national level. She has served on numerous English Department committees and reads her poetry in classes. She serves on University-wide committees, boards and task forces; she gives poetry readings in the local community and speaks to local groups. She has served on the board of Habitat for Humanity and the United Way Allocations Panel (both local). On the state level, Luci has served on the state Art Commissions, delivered Commencement Addresses at high schools on the Navajo Reservation and in Santa Fe and judged the Miss Navajo Nation and Miss Indian New Mexico Pageants. On the national level, Luci serves on the Board of Trustees for the National Museum of the American Indian, a branch of the Smithsonian Institution, and has served on the Board of Directors of the American Indian Law Resource Center, as a Review Consultant for the Cultural Diversity Development Division of American College Testing and reviews manuscripts for the University of Oklahoma Press, the University of Arizona Press, the University of Nebraska Press, and Cornell University Press. She is also a consultant to American Playhouse for the movie The Lady Chieftans. She was on the Planning Committee for the Returning the Gift Writers Festival from 1989-1992, worked in collaboration with David Noble, Rich Rollins and Krista Elrick on the Phoenix Art Commission Project Hohokamki: The Pueblo Grande Project from 1990-1992 and was a Newberry Library Fellow at the NEH Seminar Teaching and Writing Local History held at Navajo Community College (now Diné College) in Tsaile, AZ in 1995..

Luci began to write poetry at the age of 8 or 9. She is now the author of five books of poetry and stories and one children's book. Luci is the mother of five children.

A short biography from the Internet Public Library's Native American Author's Project.
Writing available online
The Canyon was Serene from Weber Studies

Just Past Shiprock from Saánii Dahataa

Preface to Blue Horses Rush In

A RealAudio file of an interview with Luci, and the reading of Hills Brothers Coffee and other poems and songs.

In 1864

It Has Always Been This Way

Light a Candle

Outside a Small House

Pay Up Or Else

Prayer

Sháá Áko Dahjiníeh
Remember the Things They Told Us

A Rough Life

She Sits on the Bridge
Awards
In 1999, Luci was names Storyteller of the Year for her readings and performances by the Wordcraft Circle of Native Writers.
Luci has received a 1998 Regional Book Award from the Mountains & Plains Booksellers Association, , a Southwestern Association for Indian Affairs Literature Fellowship, an Excellent Instructor Award at the University of New Mexico, a New Mexico Eminent Scholar Award from the New Mexico Commission of Higher Education, the Hall Center Creative Fellowship Award, a Southwest Book Award for Saánii Dahataa
from the Border Regional Library Association, an Honorable Mention in the American Book Awards in 1983 for Seasonal Woman, and the 1995 Frost Place Poet-In-Residence.
She has also been named a Woman of Distinction by the American Girl Scout Council in 1996, Influential Professor by the Lady Jayhawks Faculty Recognition panel in 1994, an Outstanding Native American Woman by the City of Sacramento in 1993, the Grand Marshal of the Northern Navajo Nation Fair Parade in Shiprock in 1992, and one of the Top Women of the Navajo Nation by Maazo Magazine.
Books by Luci Tapahonso or containing her work
Songs of Shiprock Fair, illustrated by Anthony Emerson, [Children's book]

Kiva Press.

Hayookaal: An Anthology of Navajo Writers, University of Arizona Press.

[Forthcoming 2000]
University of Arizona Press. (Hardcover)

Navajo ABC : A Diné Alphabet Book with Eleanor Schick (Illustrator),

Simon & Schuster

A Baby Brother is Born, NOFAS, Bureau of Indian Affairs/Office of Indian Education Programs,

Illustrated by Sam English.

This is How They Were Placed For Us, Feuillet. Kansas City: Helicon Nine, 1994.

Saánii Dahataa : The Women Are Singing : Poems and Stories

(Sun Tracks Books, No 23) University of Arizona Press.
Review by Gary Short in Weber Studies

A Breeze Swept Through West End Press.

Seasonal Woman, Bookpeople.

One More Shiprock Night, Tejas Art Press.
Anthologies
Poetry
Through the Eye of the Deer, Carolyn Dunn & Carol Comfort (Editors), Aunt Lute Books.

The Breath of Parted Lips: Voices from the Robert Frost Place, CavanKerry Press Ltd.

Scott Slovic (Editor), Univ. AZ Press.

Themes in Publication: A Multicultural Collection, Vol. I, 1997, Lincolnwood: Jamestown.

H. L. Hix (Editor), Helicon Nine Editions.
(Edited by Joy Harjo and Gloria Bird), W.W. Norton. (Hardback)

The Norton Anthology of Literature by Women, Sandra M. Gilbert and Susan Gubar (Editors), W. W. Norton.

Maria M. Gillan, Jennifer Gillan (Editors), Penguin USA
Jason Shinder (Editor), Harcourt Brace.
Marilyn Kallet & Patricia Clark (Editors), Prentice Hall.

Themes in Reading, Marilyn Cunningham (Editor), Contemporary Books.

Gerald Vizenor (Editor), (Harpercollins Literary Mosaic), Watson-Guptill Pubns.

Smoke Rising : The Native North American Literary Companion, Janet Witalec,

Visible Ink Press. (Harpercollins Literary Mosaic), Watson-Guptill Pubns.

Family : A Celebration by Margaret Campbell (Editor), Joan Beard (Editor),

Petersons Guides.

Strong Hearts : Native American Visions and Voices (Aperture 139)

Peggy Roalf (Editor), (Hardcover)
by Lorraine Anderson (Editor), Vintage Books.
(Sun Tracks, Vol 31) by Larry Evers (Editor), Ofelia Zepeda (Editor), Univ of Arizona Press. (Hardcover)
(Sun Tracks Books, No 29) University of Arizona Press.

Named in Stone and Sky : An Arizona Anthology, by Gregory McNamee (Editor),

Contemporary New Mexico, 1940-1990,

Richard Etulain, Univ of New Mexico Press.

Singing of Earth, The Nature Company, 1993.

Parallels : Artists/Poets, Oriole Farb Feshbach, Claire Heimarck, Lucy Rosenfeld,

Midmarch Art Press.
Paula Gunn Allen, Beacon Press.

Graining the Mare : The Poetry of Ranch Women, Teresa Jordan (Editor), Gibbs Smith.

Jo Whitehorse Cochran, Donna Langston, Carolyn Woodward (Editors), Kendall/Hunt Publishing.
by Lorraine Anderson (Editor), Vintage Books.

Books Without Bias : Through Indian Eyes, by Beverly Slapin, Doris Seale, Oyate.

by Geary Hobson (Editor), Univ of New Mexico Press
by Joseph Bruchac (Editor), Greenfield Review Press
Prose
Writing As Revision: A Student's Anthology, Beth Alvarado & Barbara Cully,

Simon and Schuster.

Song of the Turtle : American Indian Fiction 1974-1994, by Paula Gunn Allen (Editor),

Ballantine Books.

Reading the Landscape: Writing the World, Peter Valenti (Editor),

Harcourt Brace College & School Div.

Blue Mesa Review : Number Seven, David Johnson (Editor),

Universityersity of New Mexico Press.

Walking the Twilight : Women Writers of the Southwest, Kathryn Wilder (Editor),

Northland Pub.
Judy Nolte Temple (Editor), Univ of Arizona Press. (Hardcover)
(The Earthsong Collection), John Gattuso (Editor), Beyond Words Publishing Company.
Jane E. Aaron, Bedford Books.
photographs by Skeet McAuley, Aperture Books.

The Child in Contemporary America, Nancy M. Theriot (Editor),

Univ of New Mexico Press.
Ed. by Simon J. Ortiz, Navajo Community College Press
by Geary Hobson (Editor), Univ of New Mexico Press
Published Interviews with Luci and Articles on Her Work
Susan Berry Brill De Ramirez, 1999, University of Arizona Press. (Hardcover)

Native American Writers of the United States, (Dictionary of Literary Biography, V. 175),

Kenneth M. Roemer (Editor), Gale Research.

Modern and Traditional Women's Issues in the Poetry of Luci Tapahonso,

a conference session led by Sylvie Moulin-Cohen, Modern Language Association, 29 Dec 1990, Chicago.

At Once, Gentle and Powerful: Voices of the Landscape in the Poetry of Luci Tapahonso,

a thesis presented by Andrea Millenson Penner for the degree of Master of Arts in English, 1993, Northern Arizona University.
by Arnold Krupat & Brian Swann (Editors), Random House (Available Now!)

Luci Tapahonso and Simon Ortiz: Allegory. Symbol, Language, Poetry., Dean Radar,

Southwestern American Literature, 1997, 22.2, 75.

History, Healing and Continuance in Contemporary Native Women's Literature., Rae Marie Taylor,

Simone de Beauvoir Institute Bulletin, 1996, 16, 83.

The Moon Is So Far Away: An Interview with Luci Tapahonso, Andrea M. Penner,

Studies in American Indian Literatures, 8, 3, 1.

Albuquerque Writers Talk About Themselves, Their Craft and the Soul of the City , Weekly Alibi, Sept 24, 1997.

Luci Tapahonso: Artist in Profile, Wendy Weston, Native Peoples,1996, 96.

Luci Tapahonso, Navajo Poet and Short Story Writer.,

Native North American Literature: Biographical and Critical Information: Native Writers and Orators., Janet Witalec & Jeffery Chapman (Editors), 1995, Gale Research.

Writing the Southwest, David King Dunaway & Sara L. Spurgeon (Editors), Plume.

Critical Boundaries and Luci Tapahonso's 'What I Am', Susan M. Brill,

in Wittgenstein and Critical Theory: Beyond Postmodern Criticism and Toward Descriptive Investigations, 1995, Ohio University Press. (Hardcover)

Nobody is an Orphan, an interview with Sylvie Moulin,

Studies in American Indian Literature, 1991, 3.3, 18.

Interview with John F. Crawford & Annie O. Eysturoy,

in This is About Vision: Interviews with Southwestern Writers, William Balassi, John F. Crawford, Annie O. Eysturoy (Editors), 1990, University of New Mexico Press.

Literature and Landscape: Writers of the Southwest, Cynthia Farah (Editor),

1988, Texas Western Press.

Earthly Relations, Carnal Knowledge: Southwestern American Indian Writers and Landscape,

Patricia Clark Smith and Paula Gunn Allen, in The Desert Is No Lady, Vera Norwood and Janice Monk (Editors), 1987, Yale University Press.
Joseph Bruchac III (Editor), (Sun Tracks Books, No 15) University of Arizona Press

Interview with Edy Cohen in Conceptions Southwest

University of New Mexico Press.

Interview with Jennifer Skeet in Maazo, Spring 1985.

A MELUS Interview, William Ondasan, MELUS, 1984, 2.4.

by Brian Swann, Arnold Krupat, Brompton Books Corp.
by Wolfgang Binder (Editor), Helmbrecht Breinig (Editor), Wesleyan University Press. First published in German as Facing America, Multikulturelle Literatur def heutigen USA in Texten und Interviews, Rotpunktverlag, Leipzig, Germany, 1994.

Interview with Joseph Bruchac, Greenfield Review, 1982, 2, 18.
Work published in Translation
Les Cahiers- de poesie recontre, 25 special, La poesie Amerindienne

May 1989, Manuel Van Theinen (Editor), France.

Figlie Di Pocahontas: Racconti e poesie Delle Indiane d'America

Laura Coltelli, Dr. Cinzia Biagotti (Editors), Giunti Gruppo Editoriale, Publisher, Firenze, Italy.

Jagers van de Dageraad, Jelle Kaspersma (Editor), Netherlands: In de Knipscheer.
Media Presentations
EARTHWORDS, Nine Poems for Here, Now and Always: A Permanent Exhibit,

Museum of American Indian Arts and Culture, Santa Fe, NM. Opened August 14, 1997.

In Their Own Voices: A Century of Recorded Poetry, ed. Rebecca Presson, Vol. 4,

Art of the Wild, 57 minute video, Bayland Productions, 1996, PBS.

Woven By the Grandmothers, the WETA documentary for TV.

LINEbreak: Interviews and Performance from the Literary Edge with Charles Bernstein,

Martin Spinelli, Producer. Buffalo Poetics Program, 1996.

The Desert is No Lady, a 51 minute film directed by Janice Monk, Shelley Williams, Producer.

1995-1996, A Feline Films production for the Arts Council of England.

Writing the Southwest, Interview with David K. Dunaway, KOB, Albuquerque, 1990.

Visions and Voices From the Border, Teatro Fronterizo, Historic Carmen Theatre, Tucson, AZ, Fall 1989.
This is an "official" site in that this page was constructed with the assistance and active collaboration of the poet, Luci Tapahonso. The website "author" is Karen M. Strom.
© 1997 - 2000 Luci Tapahonso and Karen Strom.
---
Return to the Storytellers Frontdoor